Events, Talks and Tours
TMAG is open Tuesday to Sunday from 10:00 am to 4:00 pm until 24 December 2021. Read more about upcoming events at the museum below, and please also continue to visit our TMAG From Home page to go on some exciting virtual tours, hear more from our curators and find out what happens behind the scenes.
---
Events
Dark Mofo 2021
Join us during Dark Mofo 2021 to explore our intriguing new exhibition Paradise Lost: Thomas Griffiths Wainewright.
Late night openings
Dates: Thursday 17, Friday 18 and Saturday 19 June 2021
Time: 5:00 pm – 8:00 pm
Free, entry via Argyle Street
Curator-led tours
Dates: Friday 18 and Saturday 19 June 2021
Time: 6:30 pm
Free
Guided tours
Dates: Friday 18, Saturday 19 and Sunday 20 June 2021
Time: 11:00 am
Free
Find out more about Paradise Lost here. You can see the full Dark Mofo program at the festival website.
West: Out on the Edge On Tour
On the edge of an island at the edge of the world lies a distinctive, complex and compelling place – Tasmania's west. It occupies a unique position within the state, and within the Tasmanian imagination and psyche. It may be isolated by its extreme terrain but it is strengthened by its history and community. This unique region is the subject of TMAG's exhibition West: Out on the Edge, which we are proud to be touring west in 2021, supported by the Tasmanian Community Fund.
It is a condensed version of the exhibition that was on display in Hobart and shortlisted for a 2020 Museums and Art Galleries National Award. Visitors to this version of the exhibition will be able to discover the west and the people and places that make it tick. A highlight is a commissioned audio-visual work that tells the First Peoples' origin story connected to the west.
West: Out on the Edge will be on show at the following venues:
Queenstown: West Coast Community Services Hub, 19 January - 5 March 2021
Rosebery: Rosebery Library, 10 March - 25 March 2021
Zeehan: West Coast Heritage Centre, 30 March - 30 May 2021
---
Tours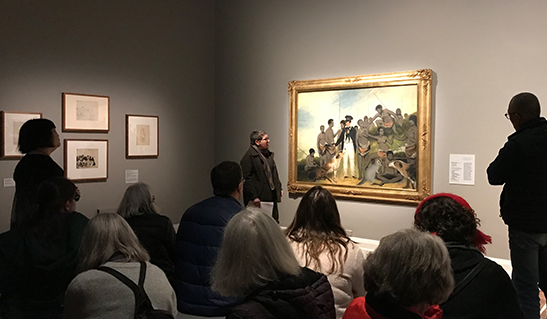 Free tours for small groups are available on Fridays, Saturdays, and Sundays, and run for approximately 40 minutes.
Tour times are subject to change and availability and can be checked by phoning (03) 6165 7000. For guided tours for clubs, tourist groups or other organisations please click here.
TMAG Art Tour
11:00 am
Fridays, Saturdays and Sundays
Join the TMAG Art Guides for a tour of our current art exhibitions.
TMAG Highlights Tour
1:30 pm
Fridays, Saturdays and Sundays
Join the TMAG guides for a highlights tour of the treasures of the Central and Henry Hunter galleries and the historic Commissariat Complex and the Bond Store exhibitions.
---
Talks at TMAG
The Tasmanian Museum and Art Gallery is proud to host an ongoing series of free evening and lunchtime talks and lectures to enhance your intellectual life, spark your curiosity and enliven your mind. These are presented on-site at TMAG by a range of leading organisations.
The Talks at TMAG program is currently on hold. Please stay tuned for details about future talks.
---
For further information about TMAG events, follow our social media accounts on Facebook, Twitter and Instagram.

For more great arts experiences in and around Hobart, visit the Tasmanian Arts Guide.