Events, Talks and Tours
TMAG is open daily 10:00 am to 4:00 pm until 31 March 2021. Entry remains free, and visitors are encouraged to pre-book. Visit this page for more information.
Please also continue to visit our TMAG From Home page to go on some exciting virtual tours, hear more from our curators and find out what happens behind the scenes.
---
Events
January 2021 School Holiday Program
The Around here...and there January school holiday program will offer free workshop sessions suitable for children of all ages. Younger visitors and their families will have the opportunity to try stencil making to create images for inclusion in TMAG's new permanent children's gallery planned to open in Autumn 2021, enjoy story sessions, make and send postcards inspired by the curious displays in the new Around the World in 80 Objects exhibition and much more!
Dates: Monday 18 - Friday 22 January 2021
Times: 11:00 am - 2:00 pm daily
All sessions and activities within the program are free, however places are limited.
Download the full program here
Extinction Studies Final Erasing
Artist Lucienne Rickard will erase the final creation of her Extinction Studies project as part of MONA FOMA 2021. Lucienne has been at TMAG since September 2019, drawing and then erasing a newly-extinct species on a large sheet of paper. For the final two weeks of the project she has moved from the Link Foyer into a larger space in the Central Gallery.
Date: Sunday 24 January 2021
Time: 3:30 pm - 3:50 pm
Location: Central Gallery
Find out more about the event at the MONA FOMA website
---
Tours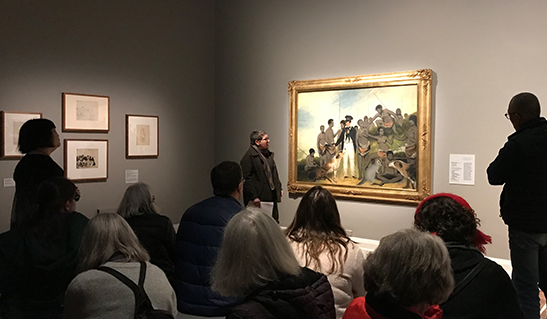 Free tours for small groups are available on Saturdays and Sundays, and run for approximately 40 minutes.
Tour times are subject to change and availability and can be checked by phoning (03) 6165 7000. For guided tours for clubs, tourist groups or other organisations please click here.
David Keeling: Stranger Exhibition Tour
11:00 am
Fridays, Saturdays and Sundays
Join the TMAG Art Guides for a tour of David Keeling: Stranger, a survey exhibition which features more than 70 works by critically acclaimed Tasmanian artist David Keeling.
TMAG Highlights Tour
1:30 pm
Fridays, Saturdays and Sundays
Join the TMAG guides for a highlights tour of the treasures of the Central and Henry Hunter galleries and the historic Commissariat Complex and the Bond Store exhibitions.
---
Talks at TMAG
The Tasmanian Museum and Art Gallery is proud to host an ongoing series of free evening and lunchtime talks and lectures to enhance your intellectual life, spark your curiosity and enliven your mind. These are presented on-site at TMAG by a range of leading organisations.
The Talks at TMAG program is currently on hold. Please stay tuned for details about future talks.
---
For further information about TMAG events, follow our social media accounts on Facebook, Twitter and Instagram.

For more great arts experiences in and around Hobart, visit the Tasmanian Arts Guide.