Events, Talks and Tours
TMAG is open Tuesday to Sunday from 10:00 am to 4:00 pm until 24 December 2021. Read more about upcoming events at the museum below, and please also continue to visit our TMAG From Home page to go on some exciting virtual tours, hear more from our curators and find out what happens behind the scenes.
---
Events
Spring School Holiday Program
Join us for some fun activities during the September-October school holidays! Be inspired by the exhibition Never Grow Old: 40 Years of Terrapin and see a free performance by Terrapin, and also get ready for the arrival of the new Australian Antarctic icebreaker RSV Nuyina. And of course, don't miss our gallery for children 0-7, mapiya lumi | around here.
Dates: 25 September - 10 October 2021
Time: From 11:00 am on select days
See the flyer for more information about what's on!
---
Paradise Lost exhibition tour
Join Principal Curator of Art Jane Stewart and Senior Curator of Decorative Arts Peter Hughes for a special final tour of Paradise Lost: Thomas Griffiths Wainewright, and enjoy your last chance to discover more about this groundbreaking exhibition.
Date: Saturday 2 October 2021
Time: 2:00 pm
Free entry
No bookings required, however places are limited due to COVID-19 capacity restrictions.
---
pARTicipate print making workshop
Join celebrated Tasmanian Aboriginal artist Allan Mansell for this very special printmaking workshop. In this four-hour workshop you will learn about different artistic styles and techniques whilst Allan shares cultural stories. Create your own artwork on the day using different materials and processes.
Date: Sunday 26 September 2021
Time: 10:30 am - 3:00 pm
Tickets: $10, all materials provided
Suitable for ages 14+
Bookings are essential.
_________________________________________________
pARTicipate
The TMAG Art Guides are back hosting their popular pARTicipate sessions each month. This October, join Jan and Diane for a two-hour workshop exploring the use of oil and soft pastels to create your own artwork that celebrates Spring. You can examine how abstraction can carry ideas, experiment with composition, and use tonal and colour theory to create illusions of space and volume.
Date: Sunday 3 October 2021
Time: 1:00 pm - 3:00 pm
Tickets: $10, all materials provided
Suitable for ages 14+
---
Seniors Week Tours 2021
Ways of Seeing
For this special Seniors Week tour, join an enthusiastic art guide for an insightful journey through time, place and identity as depicted in the artworks on show in TMAG's Art Galleries.
Date: Tuesday 12 October
Time: 11:00 am – 12:00 noon
Bookings are essential.
---
This Too Shall Pass
Join TMAG's art curator, Dr Mary Knights for a special insight into the This Too Shall Pass exhibition. Studying the portraits, paintings and artefacts in this tour will encourage us to reflect on the inevitable transience of life, beauty and material things.
Date: Tuesday 12 October 2021
Time: 2:00 pm – 3:00 pm
Bookings are essential.
---
Not So Easy
Join TMAG's decorative arts curator, Peter Hughes to hear the stories of Australia's design history through objects from TMAG's fantastic decorative arts collection and the intriguing exhibition Not So Easy: Australian Design and Identity since Federation.
Date: Wednesday 13 October 2021
Time: 2:00 pm – 3:00 pm
Bookings are essential.
---
Convict Artisans in Van Diemen's Land
Join a TMAG museum guide to find out about and see some of the fascinating items that convict artisans created.
Date: Thursday 14 October 2021
Time: 11:00 am – 12:00 pm
Bookings are essential.
---
First Nations
Visit TMAG's ningina tunapri gallery with Nicole Smith, First Peoples learning facilitator, and expand your understanding of the thought-provoking history and culture of Aboriginal people in lutruwita (Tasmania).
Date: Thursday 14 October 2021
Time: 2:00 pm – 3:00 pm
Bookings are essential.
---
Tours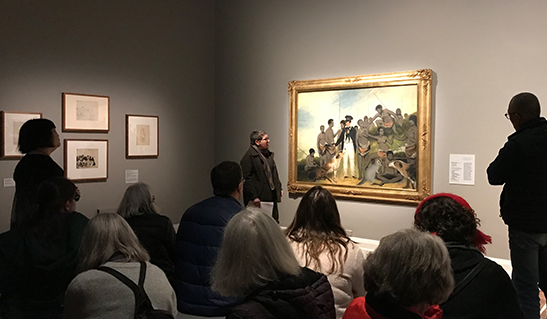 Free tours for small groups are available on Fridays, Saturdays, and Sundays, and run for approximately 40 minutes.
Tour times are subject to change and availability and can be checked by phoning (03) 6165 7000. For guided tours for clubs, tourist groups or other organisations please click here.
TMAG Art Tour
11:00 am
Fridays, Saturdays and Sundays
Join the TMAG Art Guides for a tour of our current art exhibitions.
TMAG Highlights Tour
1:30 pm
Fridays, Saturdays and Sundays
Join the TMAG guides for a highlights tour of the treasures of the Central and Henry Hunter galleries and the historic Commissariat Complex and the Bond Store exhibitions.
---
Talks at TMAG
The Tasmanian Museum and Art Gallery is proud to host an ongoing series of free evening and lunchtime talks and lectures to enhance your intellectual life, spark your curiosity and enliven your mind. These are presented on-site at TMAG by a range of leading organisations.
The Talks at TMAG program is currently on hold. Please stay tuned for details about future talks.
---
For further information about TMAG events, follow our social media accounts on Facebook, Twitter and Instagram.

For more great arts experiences in and around Hobart, visit the Tasmanian Arts Guide.