Events, Talks and Tours
TMAG presents an exciting range of events and free tours throughout the month.
Check out the November Tours and Events program here.
---
Events

Hobiennale (HB19) is a biennial arts festival bringing together artist-led initiatives and cooperatives from across Australia and New Zealand. From 15-23 November, HB19 will be showcasing the work of more than 100 artists and musicians across 15 venues and 21 exhibits, with TMAG as a key exhibition and opening event venue.

TMAG will be hosting Brisbane-based artist Mandy Quadrio's exhibition Here lies lies during the festival, and will also be presenting a special late night opening and artist talk.
Late night opening
TMAG is hosting the official HB19 opening, beginning with a Welcome to Country performance from pakana kanaplila. Visitors can also enjoy a Hobiennale bar and a great range of vegan food from Hobart caterers Harissa. Also during this extended evening opening, visitors will also be able to see Extinction Studies, a year-long durational artwork created by Hobart artist Lucienne Rickard responding to the international mass extinction of animals and habitat.
Date: Friday 15 November 2019
Time: 6:00 pm to 9:00 pm
Location: TMAG Courtyard, Bond Store and Link Foyer
Artist talk
Join artist Mandy Quadrio as she discusses her Hobiennale exhibition Here lies lies.
Date: Sunday 17 November 2019
Time: 2:00 pm
Location: Bond Store Basement

For more information and to see the full HB19 program, visit the website.
Join us for a special Hydro Tasmania Discovery Day to explore the many remarkable stories that make up the history of Tasmania's west, as we celebrate the opening weekend of our compelling new summer exhibition West: Out on the Edge.
Discovery Days at TMAG provide an opportunity for families and visitors of all ages to enjoy a Sunday of interactive activities and special interest sessions.
Date: Sunday 8 December 2019
Time: 10:00 am to 3:00 pm
All activities are free, drop-in sessions and no bookings are required. Check out the full program here.
---
Tours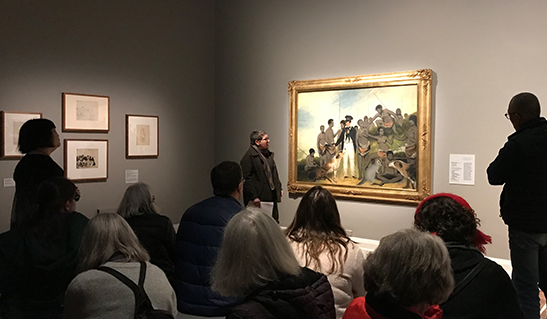 Free tours run for approximately 40 minutes and are provided Wednesday to Sunday.
Tour times are subject to change and availability and can be checked by phoning (03) 6165 7000
View the November Tours and Events program here.
Guided tours for clubs, tourist groups or other organisations please click here.
11:00 am Tours
Free exhibition talks and tours. For daily listings, check our events calendar.
Highlight Tours
1:00 pm
Highlights tour of the Welcome Garden, historic Commissariat Complex and the Bond Store exhibitions.
2:00 pm
Highlights tour of the treasures of the Central and Henry Hunter galleries.
Settlement Secrets
Go on a theatrical journey through TMAG's buildings, which are the earliest still existing from the first European settlement of Hobart. Run by AntipoDean Entertainment, the tours take place from Wednesday - Friday at 11:30 am and 2:00 pm, and tickets cost $20 adults, $15 children, $60 families (2 adults, 4 children) and under 4s are free.
For more information and to check availability and book, visit the Settlement Secrets website.
Please note that Settlement Secrets will be in recess until November 2019.
---
Talks at TMAG
The Tasmanian Museum and Art Gallery is proud to host an ongoing series of free evening and lunchtime talks and lectures to enhance your intellectual life, spark your curiosity and enliven your mind. These are presented on-site at TMAG by a range of leading organisations.
Maritime Museum of Tasmania Talk
Speaker: TBA
Date: Tuesday, 5 November
Time: 12:00 pm
Location:Royal Society Room
Organiser: Maritime Museum of Tasmania
Post Graduate Night
Speakers: Luisa Fitzpatrick, Habacuc Pérez-Tribouillier and Patrick Yates
Date: Tuesday, 5 November
Time: 8:00 pm
Location: Royal Society Room
Organiser: Royal Society of Tasmania
---
For further information about TMAG events, follow our social media accounts on Facebook, Twitter and Instagram.

For more great arts experiences in and around Hobart, visit the Tasmanian Arts Guide.