Events, Talks and Tours
TMAG is open Tuesday – Sunday from 1 April until 24 December and daily from 26 December until 31 March. Read more about upcoming events at the museum below, and please also continue to visit our TMAG From Home page to go on some exciting virtual tours, hear more from our curators and find out what happens behind the scenes.
---
Events
Prokofiev 'War Sonatas' with Alexey Yemtsov
As Picasso was to art, Sergey Prokofiev was to music – fresh, vital and bracingly modern. His instrument was the piano and his greatest piano works are the three 'War Sonatas' (Nos. 6, 7 and 8) from the 1930s–40s. These are some of the most demanding pieces ever written for the instrument. By anyone. Taking on the challenge of performing them over three consecutive evenings is Ukraine-born pianist Alexey Yemtsov, who counts among his many awards First Prize in the International Prokofiev Competition.
Don't miss your chance to experience these rarely heard modernist masterpieces performed on the recently installed piano in the Central Gallery at the Tasmanian Museum and Art Gallery.
Sunday 19 June, 6:00 pm – Sonata No. 6
Monday 20 June, 6:00 pm – Sonata No. 7
Tuesday 21 June, 6:00 pm – Sonata No. 8
Image courtesy of Tasmanian Symphony Orchestra
---
pARTicipate Drawing Workshop: Fantastic Chairs with Deb St Leger (Wardrop) and Pamela Shepherd
A two-hour workshop on looking, re-imagining and creative drawing.
Join experienced art educators and volunteer art guides, Deb and Pamela, for a drawing workshop inspired by TMAG's current exhibition Gay Hawkes: The House of Longing. In this workshop, you will learn to draw a 'fantastic' chair, which will be an exercise in looking, re-imagining and creative drawing.
Pamela and Deb will guide you through the exhibition, observing techniques, collecting ideas and recording details of Gay's work in drawings. Then back in the studio, taking your collected ideas and drawings, create a work of a 'fantastic' chair or chairs using a variety of drawing materials and decorative techniques.
Details:
Sunday 5 June 2022, 1:00 pm – 3:00 pm
Tickets: $10.00 (book here)
Centre for Learning and Discovery, TMAG
Suitable for ages 14 +. All materials provided.
---
Tours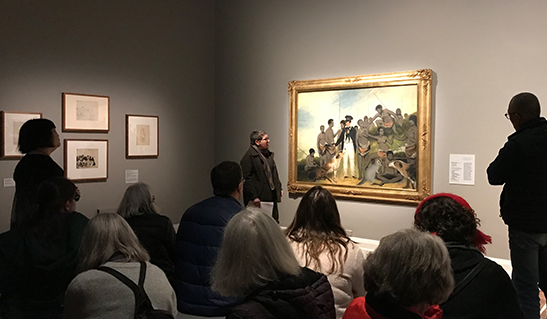 Free tours for small groups are available on Fridays, Saturdays, and Sundays, and run for approximately 40 minutes.
Tour times are subject to change and availability and can be checked by phoning (03) 6165 7000. For guided tours for clubs, tourist groups or other organisations please click here.
TMAG Highlights Tour
1:30 pm
Fridays, Saturdays and Sundays
Join the TMAG guides for a highlights tour of the treasures of the Central and Henry Hunter galleries, and the historic Commissariat Complex and Bond Store exhibitions.
Gay Hawkes: The House of Longing Tour
11:00 am
Fridays, Saturdays and Sundays
Join an enthusiastic art guide for a tour of the temporary exhibition Gay Hawkes: The House of Longing to hear stories about loss and the resilience of celebrated Tasmanian artist, Gay Hawkes.
---
Talks at TMAG
The Tasmanian Museum and Art Gallery is proud to host an ongoing series of free evening and lunchtime talks and lectures to enhance your intellectual life, spark your curiosity and enliven your mind. These are presented on-site at TMAG by a range of leading organisations.
The Talks at TMAG program is currently on hold. Please stay tuned for details about future talks.
---
For further information about TMAG events, follow our social media accounts on Facebook, Twitter and Instagram.

For more great arts experiences in and around Hobart, visit the Tasmanian Arts Guide.