Events, Talks and Tours
TMAG is open Tuesday – Sunday from 1 April until 24 December and daily from 26 December until 31 March.
Read more about upcoming events at the museum below, and please also continue to visit our TMAG From Home page to go on some exciting virtual tours, hear more from our curators and find out what happens behind the scenes.
---
Events
Sound Down Session at TMAG
Marking International Day of People with Disability this weekend, TMAG is holding a Sound Down Session on Sunday 4 December, for the acclaimed exhibition taypani milaythina-tu: Return to Country. In addition, the popular children's gallery mapiya lumi | around here will also be open in sound down mode.
The sound down session is particularly for visitors with autism, sensory sensitivities, or disability and their families or carers. This is an opportunity for those patrons to have a quieter gallery experience, with fewer people and reduced noise and, where possible, brighter light levels.
Details
Sunday 4 December 2022
8:45–10:00 am
Tasmanian Museum and Art Gallery, Dunn Place, Hobart
Free and no bookings required. Open to all ages.
Patron advice:
The session will conclude at 10:00 am, when the galleries will open to the public. Visitors to the Sound Down session are most welcome to stay in the galleries once the session has concluded, however the galleries will become busier from 10:00 am onwards.
You are welcome to bring any headphones, ear plugs, fidgets or other self-regulating devices into the exhibition, as long as they are handheld and do not present a risk to artworks or other visitors. Food and drink are not permitted inside exhibition spaces.
All gallery spaces including exhibitions, entrances, exits, café (open from 10:00 am) and toilets are wheelchair accessible.
---
Discovery Day
Join us at TMAG for a bird-tastic Discovery Day.
Check out the new exhibition of beautifully illustrated birds, Susan Lester: Birds of Tasmania, and discover how to sketch a bird with artist Lucienne Rickard. You can create your own bird mask and more!
Details
Sunday 4 December
10:00 am – 1:00 pm
Central Gallery, TMAG
No bookings required
This event is generously supported by Detached Cultural Organisation.
Image details: Lucienne Rickard (b. 1981), Extinction Studies 2019, graphite on paper.
---
pARTicipate session: Flights of Fantasy
A two-hour workshop on looking, re-imagining and creative drawing.
Join Penny Carey-Wells and Deb St Leger, both experienced arts practitioners and volunteer art guides at TMAG, for an afternoon of drawing. With the opening of the exhibition Susan Lester: Birds of Tasmania in the Salon Gallery, this session will focus on evolving your own imaginary bird in a workshop dedicated to developing your drawing skills and having fun.
About the Facilitators
Penny Carey-Wells is a former lecturer and technician at the School of Art, University of Tasmania. She is a practicing artist, bookbinder, and graphic designer. Her motto is that 'Art saves lives'.
Deb St Leger (Wardrop) studied at the Tasmanian School of Art majoring in painting and Art Theory, tutoring in these subjects during her postgraduate studies. She reviewed art exhibitions for a variety of publications, and she has experimented with printmaking. Deb loves bush walking, sailing, swimming, tai chi, painting dogs and knitting socks.
Details
Sunday 4 December
1:00–3:00 pm
$10 per person
Tasmanian Museum and Art Gallery (TMAG)
---
Tours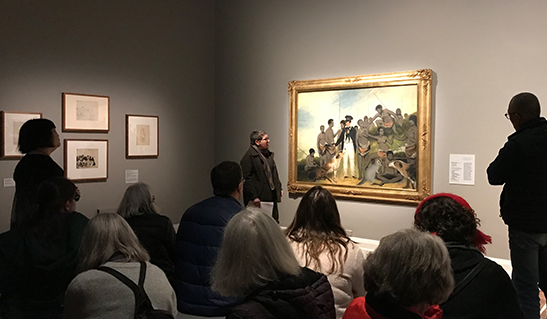 Free tours for small groups are available on Fridays, Saturdays, and Sundays, and run for approximately 40 minutes.Tour times are subject to change and availability and can be checked by phoning (03) 6165 7000.
For guided tours for clubs, tourist groups or other organisations please click here.
TMAG Highlights Tour
1:30 pm Fridays, Saturdays and Sundays
Join the TMAG guides for a highlights tour of the treasures of the Central and Henry Hunter galleries, and the historic Commissariat Complex and Bond Store exhibitions.
Ways of Seeing Tour
11:00 am
Selected dates throughout December:
Friday 2 December
Saturday 3 December
Friday 9 December
Saturday 10 December
Sunday 11 December
Saturday 17 December
Sunday 18 December
Friday 23 December
Saturday 30 December
Sunday 31 December
---
Talks at TMAG
The Tasmanian Museum and Art Gallery is proud to host free evening and lunchtime talks and lectures to enhance your intellectual life, spark your curiosity and enliven your mind. These are presented on-site at TMAG by a range of leading organisations.
Please stay tuned for details about future talks.
---
For further information about TMAG events, follow our social media accounts on Facebook, Twitter and Instagram.

For more great arts experiences in and around Hobart, visit the Tasmanian Arts Guide.