Events, Talks and Tours
TMAG presents an exciting range of events and free tours throughout the month.
Check out the September Tours and Events program here.
---
Events

Join artist Julie Gough for an 11:00 am tour of her major exhibition.
This exhibition interrogates colonial history and the impact of colonisation on Tasmania's first people—then and now. As well as including some key artworks from Gough's 25 years of practice, including sculpture, sound and video installations, Julie has created new site-specific artworks that engage with artefacts from major collections from across the country.
Dates: Saturday 12 and Saturday 19 October 2019
Time: 11:00 am - 12:00 pm
Download the flyer here.
---
Tours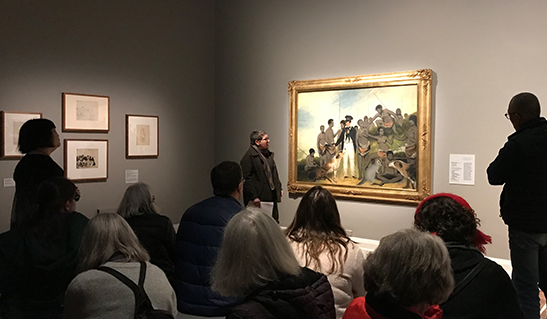 Free tours run for approximately 40 minutes and are provided Wednesday to Sunday.
Tour times are subject to change and availability and can be checked by phoning (03) 6165 7000
View the September Tours and Events program here.
Guided tours for clubs, tourist groups or other organisations please click here.
11:00 am Tours
Free exhibition talks and tours. For daily listings, check our events calendar.
Highlight Tours
1:00 pm
Highlights tour of the Welcome Garden, historic Commissariat Complex and the Bond Store exhibitions.
2:00 pm
Highlights tour of the treasures of the Central and Henry Hunter galleries.
Settlement Secrets
Go on a theatrical journey through TMAG's buildings, which are the earliest still existing from the first European settlement of Hobart. Run by AntipoDean Entertainment, the tours take place from Wednesday - Friday at 11:30 am and 2:00 pm, and tickets cost $20 adults, $15 children, $60 families (2 adults, 4 children) and under 4s are free.
For more information and to check availability and book, visit the Settlement Secrets website.
Please note that Settlement Secrets will be in recess until the end of October 2019.
---
Talks at TMAG
The Tasmanian Museum and Art Gallery is proud to host an ongoing series of free evening and lunchtime talks and lectures to enhance your intellectual life, spark your curiosity and enliven your mind. These are presented on-site at TMAG by a range of leading organisations.
Surfing in Tasmania and Shipstern Bluff
Speaker: Mick Lawrence
Date: Tuesday, 3 September
Time: 12:00 pm
Location: Royal Society Room
Organiser: Maritime Museum of Tasmania
The first 175 years of the Royal Society of Tasmania
Speaker: Dr Anita Hansen
Date: Tuesday, 3 September
Time: 8:00 pm
Location: Royal Society Room
Organiser: Royal Society of Tasmania
---
Upcoming Events
Call for Submissions: Women in Sport Exhibition
TMAG is developing a new exhibition that celebrates the contribution and achievements of Tasmanian sporting women and girls, and brings to light the lesser known stories of sporting excellence and the people behind the games. The museum is calling for stories, photographs, audio/video recordings and other materials that depict extraordinary Tasmanian women who have championed, supported and/or competed in amateur or professional sport.
To share a story please call Curator and Project Manager, Kylie Eastley on 0439 262 344 or email taschampions@gmail.com
This project has been supported by Events Tasmania as part of the ICC T20 Cricket World Cup program being hosted by Australia in 2020.
---
For further information about TMAG events, follow our social media accounts on Facebook, Twitter and Instagram.

For more great arts experiences in and around Hobart, visit the Tasmanian Arts Guide.