Events, Talks and Tours
Closure due to COVID-19
TMAG is currently closed to the public due to the COVID-19 pandemic. No events, talks or tours are currently taking place on-site. Read more here.
Please visit our YouTube, Facebook, Twitter and Instagram pages to stay in touch with us and go on some exciting virtual tours, hear more from our curators and find out what happens behind the scenes.
---
Events
Join our Art Guides for pARTicipate, held on the first Sunday of every month.
Next date: TBC
Location: Centre for Learning and Discovery Studio
No bookings required, however be early to secure your place.
---
Tours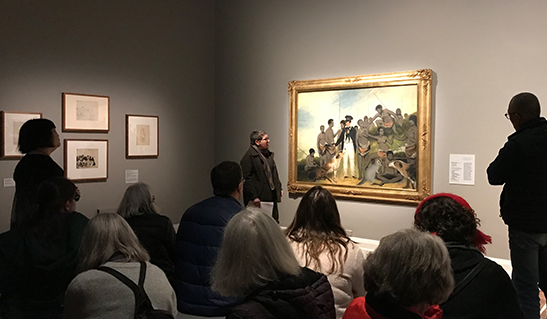 Free tours run for approximately 40 minutes and are provided Wednesday to Sunday.
Tour times are subject to change and availability and can be checked by phoning (03) 6165 7000
View the March Tours and Events program here.
Guided tours for clubs, tourist groups or other organisations please click here.
11:00 am Tours
Free exhibition talks and tours. For daily listings, check our events calendar.
Highlight Tours
1:00 pm
Highlights tour of the Welcome Garden, historic Commissariat Complex and the Bond Store exhibitions.
2:00 pm
Highlights tour of the treasures of the Central and Henry Hunter galleries.
Settlement Secrets
Go on a theatrical journey through TMAG's buildings, which are the earliest still existing from the first European settlement of Hobart. Run by AntipoDean Entertainment, the tours take place from Wednesday - Friday at 11:30 am and 2:00 pm, and tickets cost $20 adults, $15 children, $60 families (2 adults, 4 children) and under 4s are free.
For more information and to check availability and book, visit the Settlement Secrets website.
Please note that Settlement Secrets is currently in recess.
---
Talks at TMAG
The Tasmanian Museum and Art Gallery is proud to host an ongoing series of free evening and lunchtime talks and lectures to enhance your intellectual life, spark your curiosity and enliven your mind. These are presented on-site at TMAG by a range of leading organisations.
Stay tuned for details about talks in 2020.
---
For further information about TMAG events, follow our social media accounts on Facebook, Twitter and Instagram.

For more great arts experiences in and around Hobart, visit the Tasmanian Arts Guide.