10 Objects Tell Fascinating Stories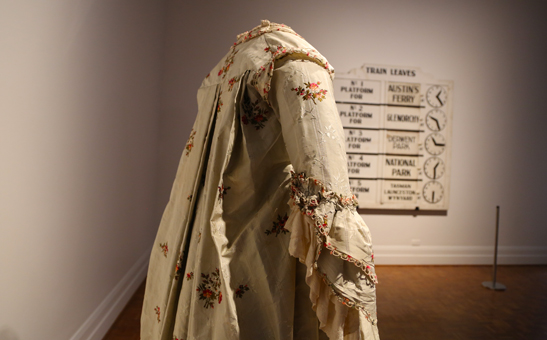 Fascinating untold stories and unique cultural heritage from some of Tasmania's precious community collections are now on show as part of a new exhibition at the Tasmanian Museum and Art Gallery (TMAG).
10 objects – 10 stories: celebrating community collections features objects curated by Arts Tasmania's Roving Curators from community museums across Tasmania.
There are more than 140 small museums and collection in Tasmania, most of which are run by volunteers, and they play an important role as the custodians and storytellers of the state's unique cultural heritage.
Arts Tasmania's Cultural Heritage and Roving Curator programs support these museums and ensure the objects and their stories are maintained for future generations.
The 10 objects in the exhibition represent collections found in towns right around the island, including the King Island Museum, St Helens History Room, Burnie Regional Museum, Campbell Town Museum and the Tasmanian Transport Museum in Glenorchy.
As well as representing many different places in Tasmania, the objects themselves are also intriguingly diverse.
From the National Trust Old Umbrella Shop in Launceston comes a three-dimensional papier-mâché advertising shop display, based on the logo of famous twentieth-century London company Fox Frames.
Another highlight is a recorded interview with the last ANZAC, Tasmanian Alec Campbell, from the Sound Preservation Association of Tasmania museum at Bellerive.
An object with a special link to TMAG is an 18th century silk brocade dress, from the East Coast Heritage Museum, worn by one of Australia's most talented female colonial writers and artists, Louisa Ann Meredith.
Her exquisite artworks depicting Tasmania's flora and fauna are a special part of the TMAG collection, and have been on show in recent exhibitions Colonial Women and Panoramic Views.
TMAG also holds a photograph of Louisa wearing the dress as part of its photographic collection.
The exhibition is a partnership between the Tasmanian Museum and Art Gallery and Arts Tasmania.
10 objects – 10 stories: celebrating community collections is on display in Argyle Gallery 4 until 13 May 2018.
Image details:
(top) Louisa Ann Meredith's dress, from the collection of the East Coast Heritage Museum, on display in the 10 objects – 10 stories exhibition.
(below) Photographer: C Wherrett, Mrs Louisa Ann Meredith (née Twamley), ca 1877, albumen paper carte de visite, 6x9 cm, Tasmanian Museum and Art Gallery Royal Society Collection.