Showcasing TMAG's Young Collectors
Collections created by young Tasmanians are being celebrated in a new display, on show at the Tasmanian Museum and Art Gallery (TMAG) as part of the upcoming 2018 TMAG Children's Festival.
Since 2005 TMAG's Young Collectors program has showcased over fifty interesting and eclectic collections, from sheep tags to seeds and slot cars to shells, all highlighting the varied collecting interests of children.
The new display, Celebrating Young Collectors, revisits two young collectors who have previously shown their collections at TMAG, along with three new young collectors.
On show are 9-year-old Wil and 6-year-old Abbey's collection of stamps, 7-year-old Leo's collection of recycled action figures and 11-year-old Amber's collection of money boxes, as well as returning collections of snow domes (by Phoebe, age 14) and penguins (by Lulu, age 6).
Young Collectors program manager John Retallick says that the aim of the program is to encourage lifelong connections to TMAG.
"Collecting is at the heart of museum practice and the Young Collectors program helps to inspire the next generation of museum curators, collection managers and conservators," John says.
"Program participants begin to see beyond what is on display and see how curation, conservation and collection management are important.
"We provide an avenue for collectors with a message as well as those with a niche interest."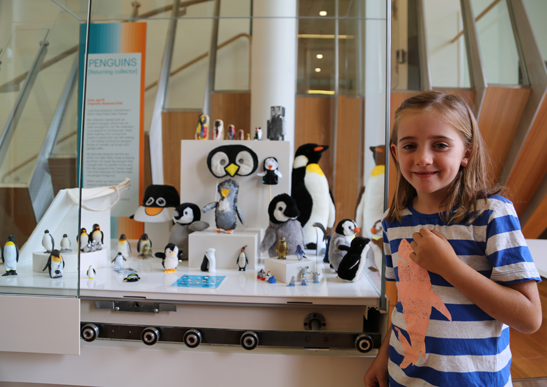 Since 2005 there have been 52 collections displayed from 58 young collectors, from a total of 31 boys and 27 girls, with the average age of collectors being nine years old.
The most popular type of collection submitted for display is rocks and gems, and animal themed collections are also very popular, with collections of penguins, giraffes, dinosaurs, Tasmanian devils, pigs, dragons, insects, cats and birds all displayed in the past.
"The joy of sharing your passion with an audience and getting feedback on what is normally a private pursuit is especially good for collectors with a deeper purpose such as Leo with his recycling," John says.
"The program is also important for TMAG as we get to see what young collectors are interested in and it can point us in the direction of social trends or a younger worldview that may not be reflected in the State Collection."
TMAG celebrates collectors of all ages and welcomes new applications from young collectors for future displays. An application form is available here.
Celebrating Young Collectors is on show in the Link Foyer until 17 May 2018. It is a featured display in the 2018 TMAG Children's Festival, which will run from 17-22 April 2018. The full program is available here.
Image details:
(Top) 7-year-old Leo and his collection of recycled action figures.
(Below) 6-year-old Lulu, who is displaying her collection of penguins for the second time. They were first displayed at TMAG in 2016, when she was 4.