Celebrating science at TMAG and beyond
Tasmania's unique pop-up science bar returns to the Tasmanian Museum and Art Gallery (TMAG) this weekend as part of National Science Week and this year's event is bigger than ever!
Now in its third year, BeakerStreet@TMAG will present two mind-expanding nights of talks, debates, bars and live music on Friday, 16 and Saturday, 17 August.
This year, the event has expanded beyond the museum's walls to include an 'Out and About' program of Academy of Science talks at the Hobart Town Hall as well as experiences, workshops and tours, supported by Events Tasmania and the City of Hobart.
Beaker Street aims to take science out of the laboratory and into the wider community to inspire wonder and curiosity in our surroundings and everyday lives.
The 2019 program includes collaborations with ABC Radio National, ABC Radio Hobart, the Menzies Institute of Medical Research, the Museum of Old and New Art (Mona) and Tasmanian Whisky Week, to name a few.
More than 150 scientists and artists from around Australia are taking part in this year's event, with highlights including talks by Kirsha Kaechele (Eat the Problem) and Gourmet Farmer Matthew Evans as well as the Hobart premiere screening of Push Day, a short film depicting an expedition into Australia's deepest cave found in the Tasmanian wilderness.
Visitors will also be able to play retro video games, taste Tasmanian whiskies at the Distillers' bar, get hands-on in the Menzies Living Laboratory, be part of the audience for ABC Radio National's Ockham's Razor program and enjoy a musical performance by Dr Alon Ilsar using custom-built AirSticks.
Acting Director of TMAG and Chair of National Science Week Andy Baird says you don't need a lab coat to engage with science, just endless curiosity about the world we live in – and beyond.
"Our partnership with BeakerStreet is a great example of the collaborative community that is the Tasmanian science sector. TMAG is a hub of ideas and their expression, and BeakerStreet@TMAG presents the very best of that in a dynamic program."
"Ideas and observations of a universe of such immense diversity expand far beyond any ownership, and our science community now has a place, a space to share such exciting investigations. BeakerStreet@TMAG is the open window to the world."
BeakerStreet@TMAG runs from 6:00 pm until midnight on Friday, 16 and Saturday, 17 August at the Tasmanian Museum and Art Gallery in addition to the Academy of Science Talks program at the Town Hall and experiences across the city.
Entry to TMAG is free but some events are ticketed. For program details and ticket information, please visit www.beakerstreet.com.au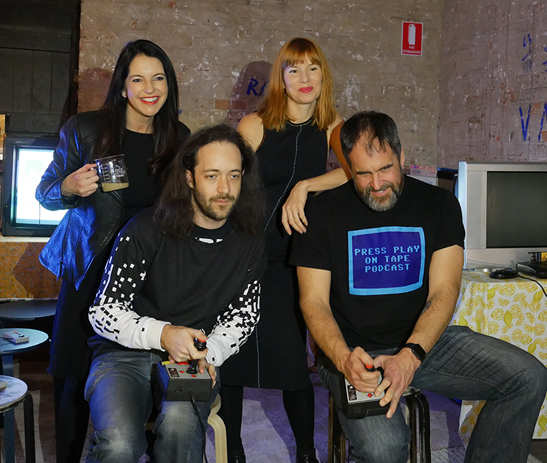 (L-R) Jane Howlett MLC, bodyhacker Meow Ludo Disco Gamma Meow Meow, Mona's Kirsha Kaechele and retro video game guru Aaron Clement at the BeakerStreet@TMAG 2019 media preview.