Innovative outcomes from TMAG's Expeditions of Discovery
The Tasmanian Museum and Art Gallery (TMAG) is pleased to share some innovative outcomes from its important Expeditions of Discovery program, including a new exhibition and new discoveries from the most recent expedition.
Since 2017, TMAG scientists have embarked on yearly expeditions to investigate scientifically under-explored corners of Tasmania to search for new species and to document local biodiversity.
Now open at the museum is Discovering the Flora of Wind Song: Botanical Art and Science, a new exhibition featuring the work of botanical artists who accompanied the scientists on their inaugural expedition to Wind Song, on Tasmania's East Coast.
Twelve artists from the group Botaniko joined TMAG's botanists at Wind Song, a 220 hectare former farming property at Little Swanport, where they drew inspiration from the plants on the property. The works in the exhibition depict just a selection of the 190 species of vascular plants and 170 lichens observed there.
The area where Wind Song is situated holds a deep connection for Tasmanian Aboriginal people, and a 42 hectare parcel of the property was recently gifted to the traditional owners through the Aboriginal Land Council of Tasmania.
In addition to information about the plants found on the property, Discovering the Flora of Wind Song also includes information about the ways members of the Tasmanian Aboriginal community have used them.
From the inaugural expedition to the most recent one, and TMAG's scientists have also finalised the results from their 2019 expedition to Spring Bay Mill near Triabunna, in which they collected 3 396 specimens representing about 1 050 different species.
This included one new species of lichen (Cresponea graemeannae) which was discovered, described and published, and potentially two new species of marine macroalgae which are the subjects of ongoing research.
In addition, seven species of species of marine macroalgae and four species of invertebrates, previously unknown in Tasmania, were discovered, and a rare beetle (Sitarida scabriceps) was also collected.
"The Expedition of Discovery program illustrates how much of a remarkable flora and fauna remains to be discovered, described and named," Head of the Tasmanian Herbarium, Gintaras Kantvilas, said.
"Despite a long history of agricultural and industrial use and disturbance, the Spring Bay site proved to support significant remnant patches of natural vegetation – habitats for inconspicuous species of lichens and invertebrates previously unknown."
The information collected during the expedition has a wide range of applications, with the specimens forming part of TMAG's natural history collections where they are used for taxonomic and other research.
"This type of detailed single-locality information provides an important benchmark for evaluating and understanding other places in Tasmania, providing a baseline against which other sites can be compared, and we thank the land owners for their generous support of our program," Gintaras said.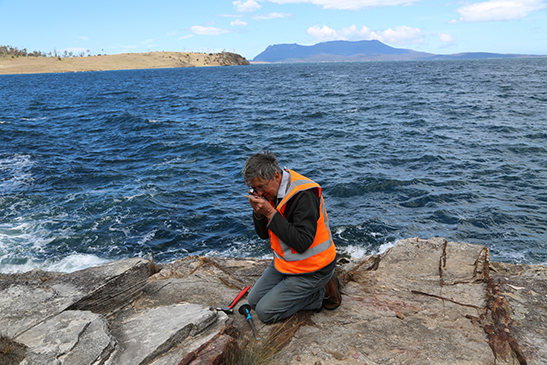 Spring Bay Mill will use the information for revegetation and monitoring of the natural biodiversity of the site.
"An important part of our mission has been to rehabilitate the natural landscape after decades of industrial use, so we were delighted to learn that such biodiversity still exists within the site's more protected corners," Head Horticulturist at Spring Bay Mill, Marcus Ragus, said.
"The detail from the findings will assist us to inform future generations of the importance of biodiversity and natural systems as we also nurture and protect what is there, creating additional environments for local species to thrive."
As there is a widespread interest in biodiversity data in Australia, the information is also available to all through the Atlas of Living Australia website.
TMAG's next Expedition of Discovery will take place at Stony Head in Northern Tasmania in March 2021, with the team visiting the site in November 2020 for initial investigations.
Discovering the Flora of Wind Song is on show in TMAG's Salon Gallery until 28 February 2021.
Image details:
(first image) Discovering the Flora of Wind Song exhibition
(second image) A selection of works on show in the Discovering the Flora of Wind Song exhibition
(third image) Gintaras Kantvilas, Head of the Tasmanian Herbarium, collecting lichen specimens during the Expedition of Discovery to Spring Bay Mill, 2019
(fourth image) Collecting marine macroalgae specimens during the Expedition of Discovery to Spring Bay Mill, 2019