New Chair for TMAG Board of Trustees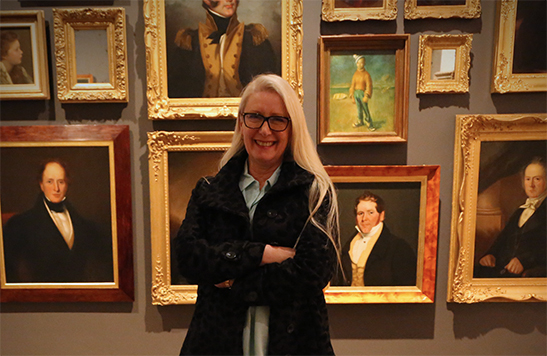 The Tasmanian Museum and Art Gallery (TMAG) has a female Chair of its Board of Trustees for the first time in its long history, following the appointment of Brett Torossi.
It is also the first time that two women have led the institution, with Ms Torossi joining TMAG Director Janet Carding, who has been reappointed for another five year term.
Ms Torossi takes over following the retirement of Geoff Willis, who has been a member of the Board since 2006 and Chair since 2015.
She has been a member of TMAG's Board of Trustees since 2012, and is currently chair of the Board's Audit and Risk Committee.
Ms Torossi is a well-respected property developer and businesswoman, with developments in Tasmania in the tourism, residential and commercial sectors.
She is also an experienced board member, and her other appointments include Chair, Tasmanian Heritage Council; Director, Tourism Tasmania; Director, Tasmanian Development Board; Member, Brand Tasmania Board; Member, Premier's Visitor Economy Advisory Council and Member, Rhodes Scholarship Selection Panel.
Ms Torossi highlighted several priority areas for TMAG in 2020 and beyond, in particular showcasing the institution's important role in research, implementing the Australian Museums and Galleries Association Indigenous Roadmap and delivering key projects such as the new Children's Exhibition and digitisation of the State Collection.
"TMAG is about helping our Tasmanian communities and visitors to the state deeply engage with everything Tasmanian," she said.
"I feel that there isn't a better place than TMAG to tell the story of Tasmania.
"With more support from the community we can do more, and partnerships, donations and bequests already underpin many of our initiatives.
"A priority for me is to grow this area of TMAG, and ensure we have a firm financial foundation so we can continue to innovate in the future.
"By harnessing the opportunities of digital technology, putting our collection online for the world to visit, creating content inspired by Tasmanian stories, and introducing digital innovations in our galleries, we will be more accessible, more open, and more connected to both local and global communities.
"Guided by the Tasmanian Aboriginal community, TMAG will emphasise Aboriginal cultural heritage as we work together to build indigenous engagement in museums and galleries.
"By building on our successful offering for children and families, the creation of the dedicated, long-term, Children's Exhibition will be a catalyst for gallery renewal and foster an even warmer welcome for families and young people."
TMAG Director Janet Carding said she was looking forward to building on the achievements of the last five years, which had included developing award-winning exhibitions, the popular Children's Festival and the Expeditions of Discovery program.
"It is wonderful for us to have someone of Brett's experience coming in as our Chair of Trustees, given the exciting period of activity ahead at TMAG," she said.
In addition to Ms Torossi's appointment as Chair, TMAG has also welcomed two new Trustees, Hydro Tasmania Chief Strategy Officer Andrew Catchpole and celebrated Tasmanian author Heather Rose, who have been appointed to three year terms.
Image details: New Chair of Trustees Brett Torossi pictured in the This Too Shall Pass exhibition gallery.