Pioneering European artists on show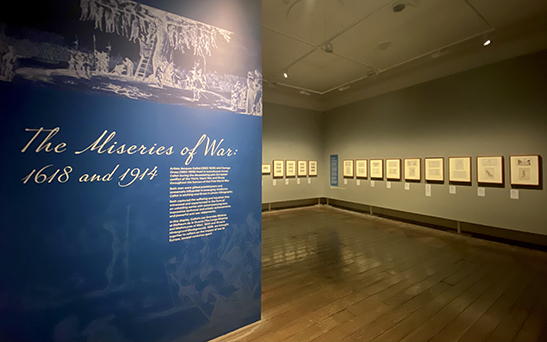 Now open at the Tasmanian Museum and Art Gallery (TMAG) is a fascinating exhibition highlighting works on paper created by two pioneering European artists.
Featuring etching by Jacques Callot (1592-1635) and photo-lithography by George Grosz (1893-1959), The Miseries of War: 1618 and 1914 showcases two works inspired by two devastating conflicts, the Thirty Years War and World War I.
Callot's work Les Grandes Misères et Malheurs de la Guerre (The Large Miseries and Misfortunes of War), 1633, was created during the pan-European Thirty Years War (1618-1648), and Grosz's Hintergrund (Background), 1928, reflected on the horrors of World War I (1914-18).
Both artists were gifted practitioners in emerging mediums and captured the suffering and injustice they witnessed and experienced in the form of an unfolding series with accompanying text, impressive technical and artistic achievements and powerful anti-war statements.
Callot was born in France and travelled to Rome in the early 1600s to learn his trade as an etcher, before entering the service of Cosimo II de Medici in Florence in 1614 and later Charles IV of Lorraine in 1621.
During his lifetime he produced over 1400 prints encompassing religion, war, theatre and landscape, which were collected by and inspired other artists, notably Rembrandt van Rijn and Francisco Goya.
Callot's Misères is considered a prototype of the comic strip, linking explanatory text to images in an unfolding narrative, and has influenced numerous graphic artists including William Hogarth, Honoré Daumier, and Goya – who owned a copy which inspired his Los Desastres de la Guerra (The Disasters of War).
His influence can also be seen in the post-World War I graphic work of Grosz and Otto Dix, who similarly used images and text to engage the public.
Grosz served in the German military in World War I and his experiences during the conflict led him to hate the war and also anglicise his name (from his German birth name Georg Groß).
Following the war he joined with likeminded artists to form Berlin Dada, which questioned and ridiculed every aspect of German society, and his satirical and savagely acerbic drawings were mass produced as offset lithographs.
Hintergrund, a portfolio of 17 drawings, was created in 1928 to accompany performances of the anti-war play Svejk, which followed the experiences of a common soldier in the Austro-Hungarian Army.
Grosz identified with the trials faced by Svejk, and the scenes depicted are a mixture of Svejk's and Grosz's wartime nightmare. Three of the drawings were considered scandalous, and Grosz was taken to court charged with blasphemy, but was acquitted in 1932.
It is believed 10 000 copies of Hintergrund were printed. Many had the three offending images removed and many were destroyed by the Nazis – however, the set displayed in the exhibition is intact.
The Miseries of War: 1618 and 1914 is on display in the Salon Gallery at TMAG from 27 August until 7 November 2021.