Sidney Nolan's Ned Kelly series at TMAG
The Tasmanian Museum and Art Gallery (TMAG) is delighted to present one of the greatest series of 20th century Australian paintings to Tasmanian audiences this summer, Sidney Nolan's Ned Kelly series.
This touring exhibition from the National Gallery of Australia features Australian artist Sidney Nolan's 1946-47 paintings on the theme of the infamous 19th century bush ranger Ned Kelly.
Visitors are sure to recognise Nolan's depiction of Kelly in his homemade armour, which has become an iconic Australian image – even appearing at the Opening Ceremony of the Sydney Olympics in 2000.
The National Gallery acquired its first Ned Kelly work from the series in 1972, Death of Sergeant Kennedy at Stringybark Creek 1946. In 1977, Sunday Reed donated to the National Gallery 25 of the 27 paintings from Nolan's first exhibited Kelly series.
Together, the 26 paintings in the exhibition provide a masterclass on Australian art history and the development of a new figuration and landscape painting in Australian art, with enamel-like surfaces on board.
TMAG's Principal Curator of Art, Jane Stewart, said the exhibition would not only allow Tasmanians to experience some of the most famous masterpieces of Australian art, but also gain an insight into one of the country's most well-known artists.
"We are excited to welcome back Sidney Nolan's iconic Ned Kelly series to TMAG, after an extremely successful previous visit nearly 20 years ago," Jane said.
"It is important that Tasmanians have the chance to access to these remarkable Australian artworks, and we are so pleased to be included in the National Gallery's current national tour of the exhibition.
"Particularly during a year when travel around the country and access to galleries and museums interstate has been complicated by COVID-19, we are delighted Tasmanians will be able to see these works at their State museum."
TMAG's Volunteer Art Guides will be providing free tours of the exhibition at 11:00 am on Fridays, Saturdays and Sundays, and further public programming related to the exhibition is planned over the coming months.
Sidney Nolan's Ned Kelly series is supported by Metal Manufactures Ltd, the National Gallery's Touring and Outreach Program Major Partner, along with funding from the Federal Government's National Collecting Institutions Touring and Outreach Program and Visions of Australia Initiative.
The exhibition's presentation at TMAG is generously supported by Joy Anderson and the Estate of Neil Thomas, along with The Old Woolstore Apartment Hotel. Without this local support, presenting the exhibition here in Tasmania would not have been possible.
Sidney Nolan's Ned Kelly series is on show at TMAG from 29 October 2021 – 20 February 2022 in Argyle Gallery 4. Entry is free.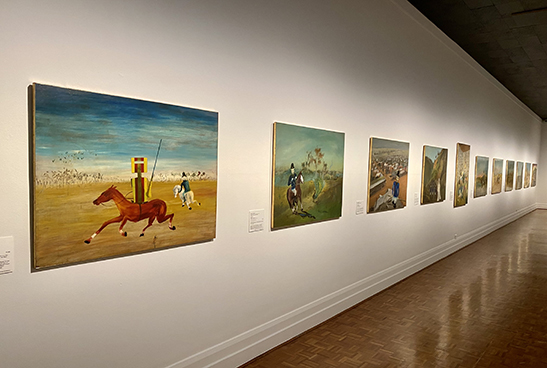 Image details: Installation views, Sidney Nolan's Ned Kelly series, Tasmanian Museum and Art Gallery, 2021 © The Estate of Sidney Nolan / Copyright Agency