Exhibitions
Acts of Exposure
Opens 14-12-2013, closes 23-02-2014
Argyle Galleries 2 and 3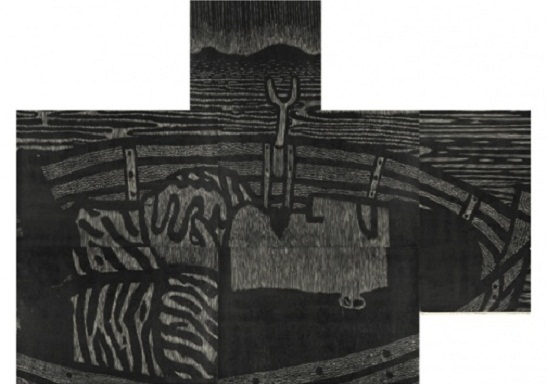 Acts of Exposure features work by Tasmanian artists Leigh Hobba and Michael Schlitz, and NSW artist Mark Shorter, and is a joint initiative of TMAG and Contemporary Art Tasmania to promote contemporary artists.
Acts of Exposure is a contemporary take on romanticism and the artistic tradition of the body in space.
The exhibition brings together artists for whom landscape is deeply subjective and whose works are guided by an ongoing personal 'quest'.
A free gallery talk by the artists and curators involved in the show will take place in the galleries at 2:00 pm on Sunday 16 February 2014.
Please be aware this exhibition includes nudity.
Image details: Michael Schlitz, Explorers Dream, 2006, relief woodblock print on Japanese Kozo paper.