Exhibitions
Patricia Giles: A World of My Own
Opens 20-01-2017, closes 09-04-2017
Salon Gallery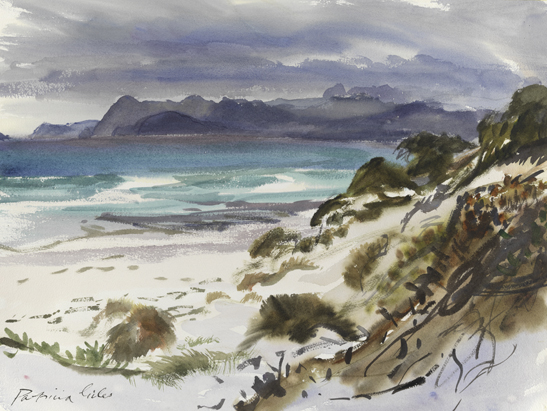 This exhibition features a series of stunning watercolours of Tasmania's East Coast by much-loved Tasmanian artist Patricia Giles.
Giles' earliest memories are of the Tasmanian bush and coast, particularly the East Coast, and in the 1970s she would often paint in the Coles Bay area with Norma McAuley, the wife of poet James McAuley (1917-76).
These excursions led to a collaborative project, a limited edition book titled A World of its Own (published 1977), in which McAuley provided poetry and Giles images. Neither poetry nor images were meant to match, rather provide two different but complementary responses to an area of great natural beauty.
Fifteen of the sixteen paintings by Giles for this collaboration can be seen in this exhibition, together with some of the original handwritten poetry by McAuley.
Giles has been a long-time supporter of the Tasmanian Museum and Art Gallery (TMAG), generously sharing her time and knowledge as an Art Volunteer and demonstrating her skill as a painter at public events. She donated the majority of the works in the exhibition to TMAG in 1996.
Image details:
Patricia Giles (b.1932)
Friendly Beaches, 1975-76
watercolour
Presented by the artist, 1996
Collection: Tasmanian Museum and Art Gallery