Exhibitions
The Early Dutch Explorers
Opens 09-02-2017, closes 05-03-2017
Bond Store Basement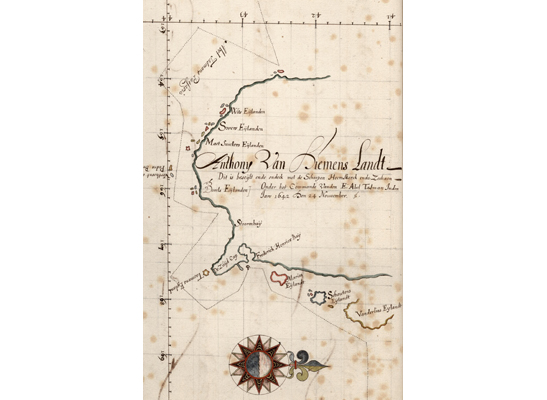 Discover the extraordinary history of the 17th Century Dutch explorers who charted the Southern Ocean and The Great South Land.
With the cooperation of the Dutch National Archives and the Scheepvaartmuseum Amsterdam, see some rare and beautiful examples of Dutch records, including Abel Tasman's journal for the day he first sighted the island that would one day bear his name.
To introduce the story, the display Through Tasman's Eyes will run from 6 December 2016 to 6 February 2017 in the Henry Hunter staircase before The Early Dutch Explorers rounds out the tale in the Bond Store Basement.
Celebrating 375 years since Tasman's visit, this exhibition is presented by the MyState Australian Wooden Boat Festival and Dutch Culture/Shared Cultural Exchange.
This exhibition is generously supported by the Embassy of the Kingdom of the Netherlands, Canberra.
Image details: Detail from Tasman's Journal, 1642-1644, courtesy of the Dutch National Archives.